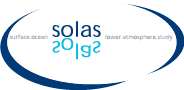 UK SOLAS Project: The impact of atmospheric dust derived metal and nutrient inputs on tropical North Atlantic near surface plankton microbiota
---
This page supplements the main UK SOLAS programme page with details that relate only to this project.
Introduction
This project is investigating how much of the nutrients nitrogen, phosphorus and iron are delivered to the ocean through atmospheric dust and how much of this material is available to the near surface plankton community. It may be that atmospheric input controls the production and the microbial diversity in the ocean where nutrients are the limiting factor. Fieldwork will concentrate on the North Atlantic tropical ocean and thus Saharan dust, and will consist mainly of two open ocean cruises: one in 2006 (air-sea campaign with the DODO project) and a second in 2007 (process study).
Availability of data
The cruise data will be available through the British Oceanographic Data Centre. Atmospheric sampling of aerosol and rain is also taking place at the Cape Verde Observatory, from which nutrient and trace metal concentrations will be produced.

The data are restricted to project participants for 1 year following collection, and to UK SOLAS participants for a further year, see details in the UK SOLAS Data Protocol. Once public, requirements will continue to apply to publications based on the data.

To register as above you need to be a BADC user. If you have not done this already, please register with the BADC. If you have previously registered but forgotten your user ID and/or password, please contact the BADC helpdesk at badc@rl.ac.uk.

To access the data visit the UK SOLAS Dust-Ocean Interaction project archive.
Instructions to data providers
Details of formats, filenames and how to submit data are given on the UK SOLAS programme page.
Who to contact
At Southampton University, contact Dr Eric Achterberg.
Any query regarding the data should be sent to the BADC help desk.