UK Upper Air Network

This file contains information on the UK Upper Air Network
---
---
1. UK Upper Air Stations
The UK Upper Air Network currently consists of twelve stations, the locations of which are shown below.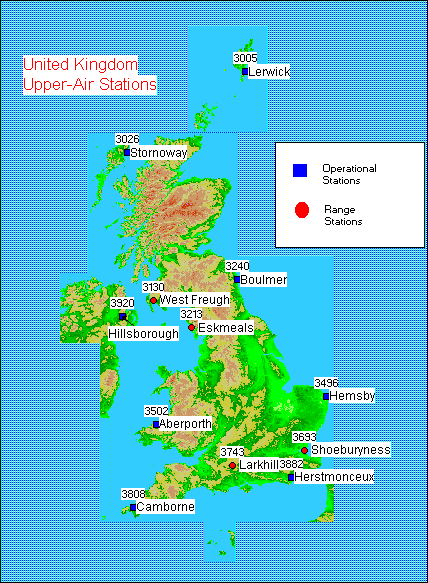 The operational stations are part of the UK synoptic network. These stations perform a 6 hourly operational routine. Data is reported at 00, 06, 12, 18 GMT.
The range stations do not form part of the UK synoptic network. They are located at particular army ranges. Ascents are performed at irregular intervals when upper air information is required for range activities.
2. Changes to the Upper Air Network
It should be noted that during the period from 1991 to the present day, there have been several changes to the upper air network.
Shanwell (03170) closed on 15/3/92. The 6 hourly operational routine was transferred to Boulmer (03240) on 16/3/92.


Crawley (03774) closed on 30/9/92. It was replaced by Herstmonceux (03882) which opened on 1/10/92.


West Freugh (03130) opened on 2/8/93.


Aughton (03322) closed on 31/3/96. The 6 hourly operational routine was transferred to Aberporth (03502).
3. High Resolution Data Stations
Certain stations maintain their own records of high resolution radiosonde data. The BADC currently is archiving high resolution data from about 10 stations in UK, with data from the 1990's.
Aberporth:
Data Coverage: From April 1990
Aberporth, located on the west coast of Wales, near Aberystwyth, is a range station. Prior to the closure of Aughton on 31/3/96, the station released radiosondes according to the data requirements of range activities. On 1/4/96, the 6 hourly operational routine of Aughton was transferred to Aberporth. Although not part of the UK synoptic network, the station is now considered operational as ascents are conducted four times daily.
The Aberporth high resolution data are used in association with the MST radar data.
Boulmer:
Data Coverage: From March 1992
Camborne:
Data Coverage: From April 1990
Lerwick:
Data Coverage: From November 1990